Calcutta Street Food Pop-up (Camden)
The Calcutta Street Food Pop-up at the Zensai Bar, Camden by Eat with me – Shrimoyee is the first of many as promised by the organiser herself. For the uninitiated, food pop-ups are an innovative means of promoting your food as a brand before you take the big entrepreneurial step of owning a restaurant.
So, on a bright and sunny Saturday we set off to discover what treats Calcutta Street had in store for us. The menu wasn't what you usually find in Indian restaurants in London, but quite readily found in Calcutta.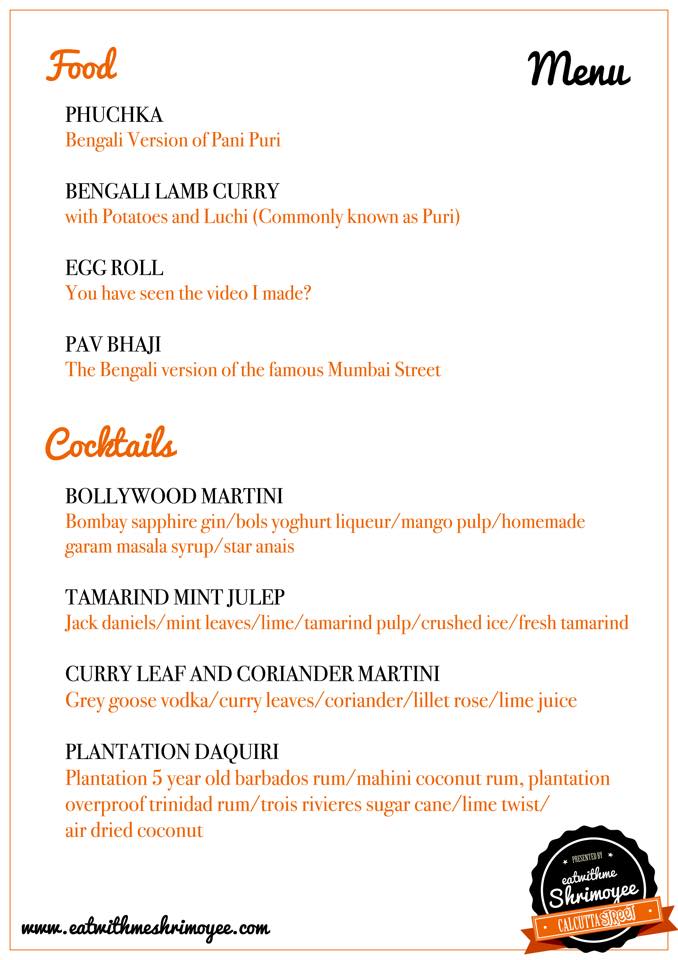 Phuchka or pani puri is an Indian street food delicacy found all over India but the recipes used are distinctively different in each region. Eastern India loves its potatoes and so the Calcutta version of this juicy treat has a spiced potato filling. The crisp and brittle shell is made out of wheat flour and semolina. The spiced tangy water served with it is made of tamarind, chillies, herbs and spices. The pleasure derived from eating a phuchka is in its technique. If you don't do it right,  all the spices in the world wouldn't give you the real experience of it. Yes, eating a phuchka is an experience indeed.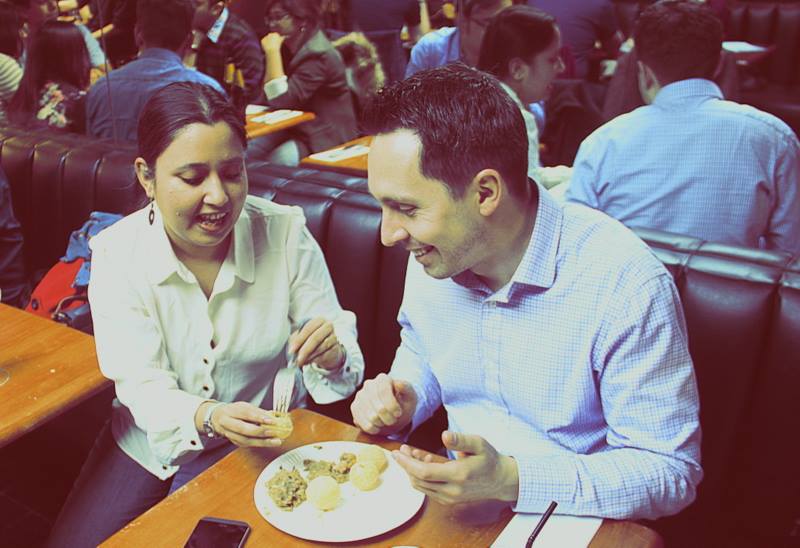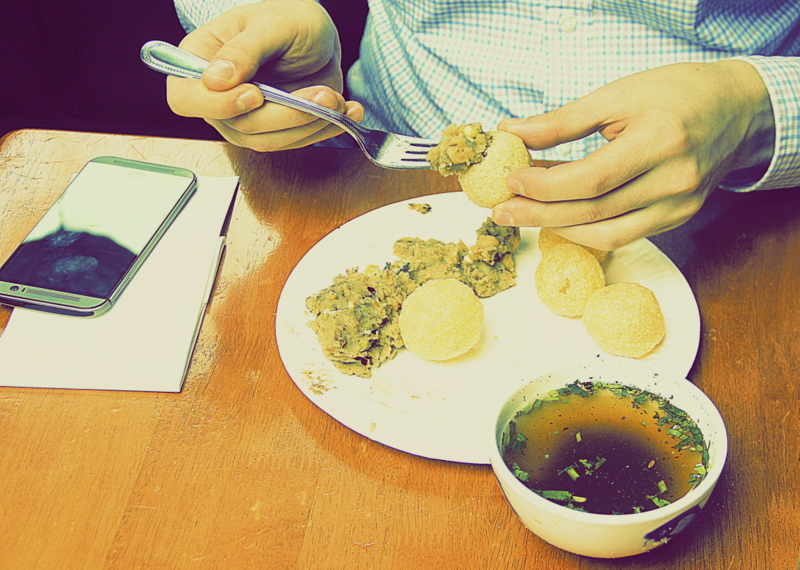 The lamb curry and luchi is another bengali delicacy served at Calcutta Street, although, fried flat bread, luchi is a skill you learn watching and eating it from childhood. As a result well-intention-ed British chefs couldn't replicate the recipe learnt from Shrimoyee on the day. Learning from it all – practice makes perfect so train your chefs before the event.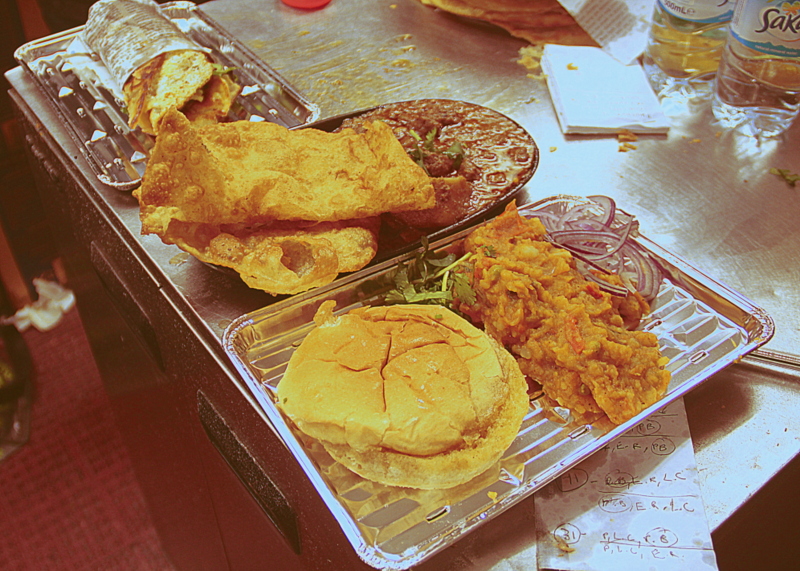 Egg Roll from the streets of Calcutta is not chinese but a product of a cultural melting pot that India is. A different kind of flat bread, the paratha, is used with an omelette, fresh  salads and sauces rolled together to form the perfect food on the go. Learn how to make an egg roll from Shrimoyee.
Pav Bhaji, not quite from Calcutta but Calcutta is a great catch-all for all popular Indian street food. I must admit that this was the best dish served by Calcutta Street and also the simplest. A spiced and cooked mashed potato is served with pav, buns and a knob of butter. A perfect spicy, stodgy treat loved by all.
With our tickets we could choose three dishes and a soft drink or Cobra beer. Cobra beer was one of the events sponsors. You could also order a cocktail infused with Indian flavours from Zensai bar for a price. My favourite was the Bollywood martini.
For a first Pop up the Calcutta Street was rather impressive in terms of getting 80 people through the door! But the food and the hospitality could do with some improvement. This was an important learning curve for the organiser. However everyone seemed to have a lot of fun including the photographer and video maker Aditya Sengupta and chief waitress and go-to-girl Kheya Chattopadhyay.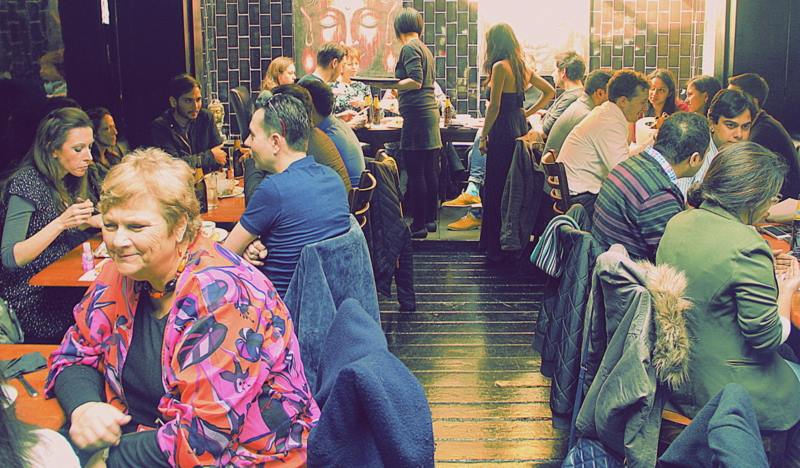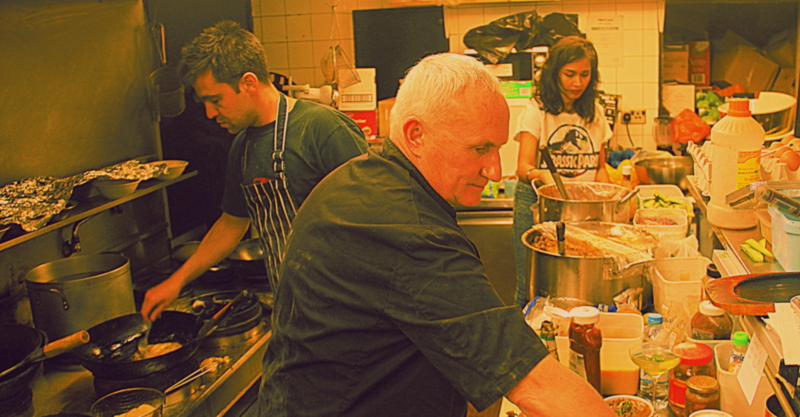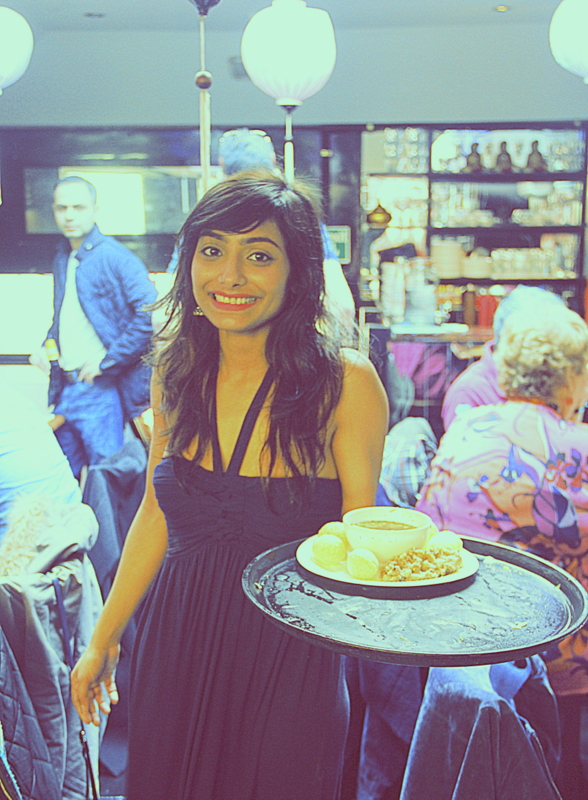 I am looking forward to more pop-ups from Shrimoyee and following her journey to becoming a restaurant owner serving the food that she loves eating and cooking. I'll leave you watching the Calcutta Street promo video by Aditya Sengupta, Kheya Chattopadhyay and Shrimoyee Chakraborty.
Photo and video courtesy : Aditya Sengupta
Written by Amrita Dasgupta -
Visit my blog for more food and travel stories
I love to travel, discover new things, experience new cultures and then I get back home and experiment with the new food and recipes I discovered on my travels. My blog is about all those life experiences. If you've enjoyed this post, keep in touch with Drifting Traveller on
Twitter
and
Facebook
or by adding my blog to your RSS feed. Follow my blog with
Bloglovin
or
Networked Blogs
! If you really like reading the Drifting Traveller why not share it with people you know who'd like to read it too.