Pesarattu – Mung beans pancake or dosa
There is so much to vegetarian food when you go beyond the leafy greens. This green pancake, dosa as it is called in India, is one such example. I came across this recipe while visiting my sister-in-law in Mumbai. She served these delicious dosas with garlic and chilly chutney for breakfast. On further research I found different versions of pesarattu, and one of those used to be served in my university canteen a long time ago. Probably had less of mung and more of rice flour in it thus changing its taste beyond recognition.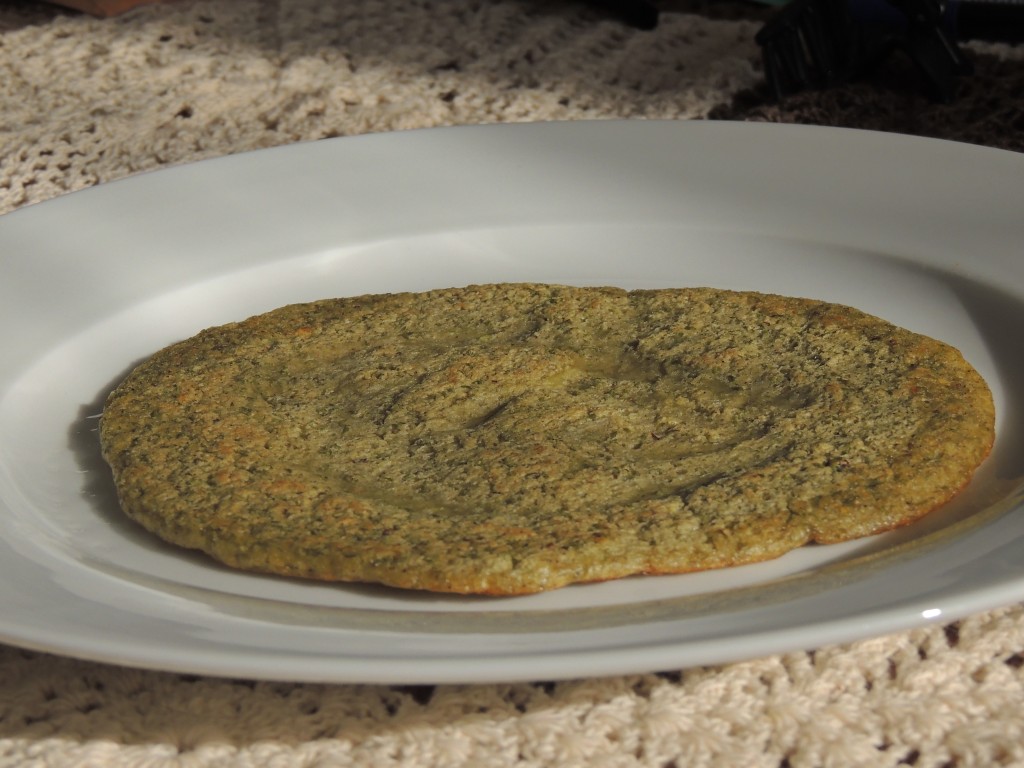 I stuck to a very basic recipe as my track record with making dosas is disastrous!
Ingredients:
1. 300 grams mung beans
2. 500 ml water (more if required)
3. Salt
4. Pepper
Preparation and Cooking
This is one of those recipes that need prior planning. Soak the mung beans over night ( at least 12 hours) and add more water if they soak up all of it.  When the beans have split their skins add salt and pepper to it. Blend the beans in to a pancake batter consistency. Add water if it is too dry. You will end up with a frothy green puree of mung beans.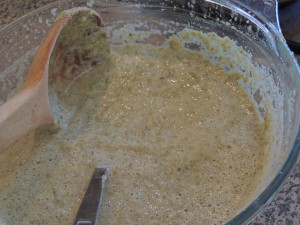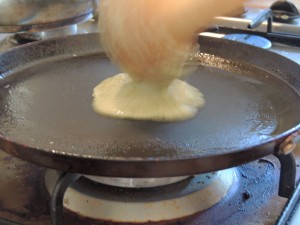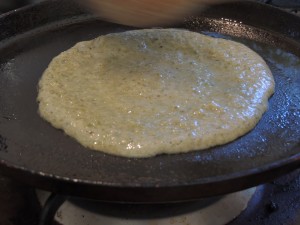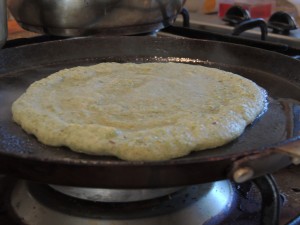 On low heat put a flat bottomed frying pan or a grill. Once it is hot enough to make a pancake carefully pour your green mixture with a round spoon, whatever size you please. Note: these are quite heavy. While the dosa sets spoon some oil around the sides – this will help unstick the dosa. Once the sides of the dosa leaves the pan flip it over.
Ideally pesarattu should be served with coconut chutney but all  I had was mango pickle to serve it with. This could also be jazzed up with a sprinkling of finely chopped onions and coriander right before taking it off the heat.
Health benefits of a pancake made out of  mung beans
1. Green mung beans are a source of dietary fibres and protein
2. The oil needed for each pancake is minimal
3. Gluten free, nut free and milk free (Vegetarians, vegans, coeliacs everyone can eat it)
So a low fat meal rich in dietary fibres and protein that also tastes good must be good for your health!
Will you try making it?
Written by Amrita Dasgupta -
Visit my blog for more food and travel stories
I love to travel, discover new things, experience new cultures and then I get back home and experiment with the new food and recipes I discovered on my travels. My blog is about all those life experiences. If you've enjoyed this post, keep in touch with Drifting Traveller on
Twitter
and
Facebook
or by adding my blog to your RSS feed. Follow my blog with
Bloglovin
or
Networked Blogs
! If you really like reading the Drifting Traveller why not share it with people you know who'd like to read it too.