The Silence of the Okras
No one raves about okra but a lot of us eat them. Silently. We love them or loathe them but don't tweet or blog about them. Have you pinned an okra to your wall or board recently?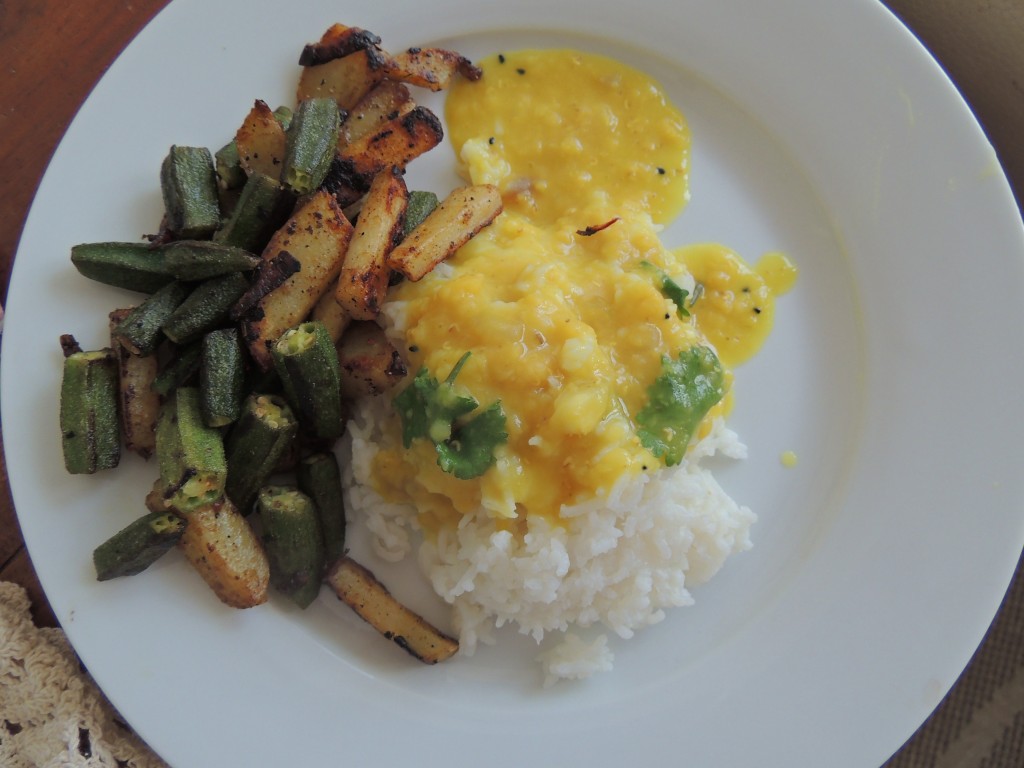 I love Okras or Ladies' Finger, as I was taught in school, they are very versatile. Eat them, create art with them (paint and print) etc. Okras soak up any flavour that you add to them. Some like them slimy and some don't. I really do not like slime so my okra recipe repertoire is quite flavour-some and slime free.  A favourite Bengali meal of okras will have Daal, rice and fried okras with potatoes. This is one of those meals that makes people nostalgic. Quite recently after I raved about the bhindi bhaja (fried okra in Bengali) meal that I had eaten,  my friend cooked it too. So it is time that we elevated the status of the okra.
Ingredients:
1. 300 grams of okra topped, tailed and halved
2. potatoes sliced like finger chips
3. Nigella seeds
4. Turmeric
5. Amchoor (Dried mango powder – available at Tesco (Asian spices section) or any Indian store)
6. black pepper, green chilli or red chilli powder for the hint of heat
7. I sometimes add half an onion but you can do without it
Recipe:
In two tablespoons of oil add the thinly sliced onion if you must and saute. When the onion becomes translucent add the nigella seeds and then the potatoes and lightly fry them. lightly cover the okra with a mix of salt, turmeric and amchoor (this is very sharp and tangy so don't put in too much) and then add it to the frying pan. Keep it at a low heat so that the okras cook and not burn. Keep tossing and turning the vegetables so that they don't catch at the bottom. When the potatoes are cooked the okra should be cooked too.
Serve as an accompaniment to daal as seen in the photograph above. Do you like or loathe okra? Do you have a favourite okra/bhindi recipe?
by Amrita Dasgupta
Written by Amrita Dasgupta -
Visit my blog for more food and travel stories
I love to travel, discover new things, experience new cultures and then I get back home and experiment with the new food and recipes I discovered on my travels. My blog is about all those life experiences. If you've enjoyed this post, keep in touch with Drifting Traveller on
Twitter
and
Facebook
or by adding my blog to your RSS feed. Follow my blog with
Bloglovin
or
Networked Blogs
! If you really like reading the Drifting Traveller why not share it with people you know who'd like to read it too.