The Roast Chicken that Saved My Life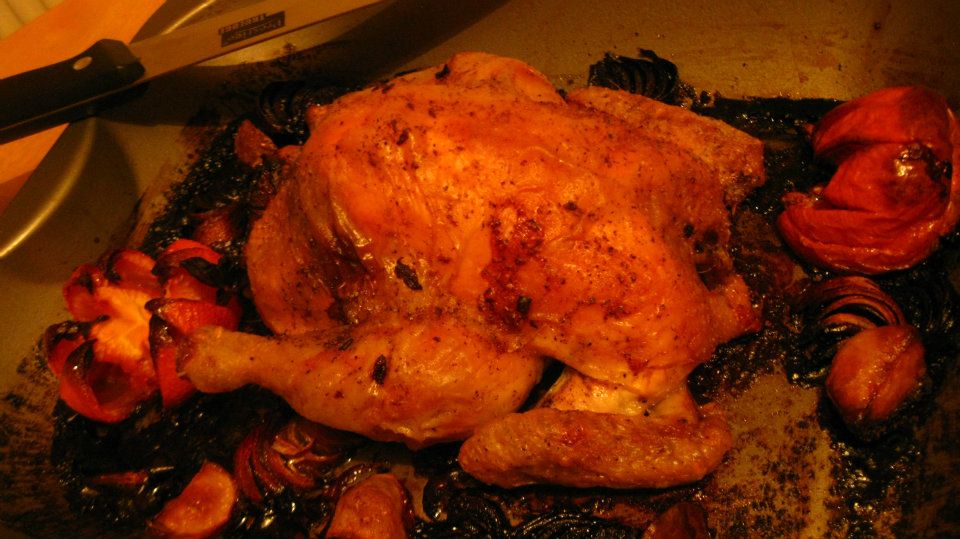 The roast chicken that saved my life is really as dramatic as it sounds! There's absolutely nothing unique in my recipe and it tastes as good as that piece of roast you're currently eating. However, its redeeming quality lies in its ability to evolve. As meals went by it morphed into Chicken soup for the tired, Chicken Noodles for the hungry and Chicken Bharta for the curry lovers.
As the temperatures plummeted in London, the incidences of cold and flu rose. Cough. Hack. Sneeze. Blow. Wipe your hand and the virus gleefully finds its next victim, me. Feverish and bleary-eyed I decided to go on with roasting a chicken for Saturday lunch just as I had planned. My recipe and grand plans were pared down to the bare minimum.
The recipe I usually use is borrowed from Nigella Lawson , but this time I had to improvise. Fast.
Ingredients
1 whole chicken (skin on, 1 kg)
Olive oil
Half a large onion or a small whole onion
4- 6 cloves of garlic (more or less depending on your tastes)
salt
coarsely ground black pepper
Preparation and Cooking time: 1 hour
I skinned and halved the onion before inserting it into the chicken cavity. I've read about and cooked recipes, which suggested putting a lemon in the chicken cavity. Jamie Oliver  and Nigella Lawson to be precise.  These recipes taste wonderful, however, I didn't have a lemon in the house, just a green glass bottle of lemon juice. So, I used an eye-watering and strongly flavoured red onion. It did help my sinuses!
I massaged the chicken with olive oil, salt and pepper, before making slits on the fleshiest parts of the chicken to insert the cloves of garlic, peeled. Garlic has anti-inflammatory properties and I was hoping it would help my cold.
I popped my roasting tin in the oven at 200 degrees centigrade. The time taken to roast a chicken is usually 45 mins per kilo with an additional 20 – 30 mins to crisp up the skin or for the juices to run clear,if needed.
Mine took about an hour. On inserting a skewer into the fleshiest part of your chicken is the best test for a roast. If the juices are pink, then it needs more time in the oven, if the juices are clear then its ready to eat. It is always best to let the chicken stand for another ten minutes before carving. To avoid drying it out, take it out of the oven.
Our Saturday lunch was roast chicken with some leftover rice.
The day after, I was in worse shape and all I had left was a cold roast chicken, which looked very unappetizing. I set about shredding chunks of it and that became the base of my impromptu chicken noodle soup.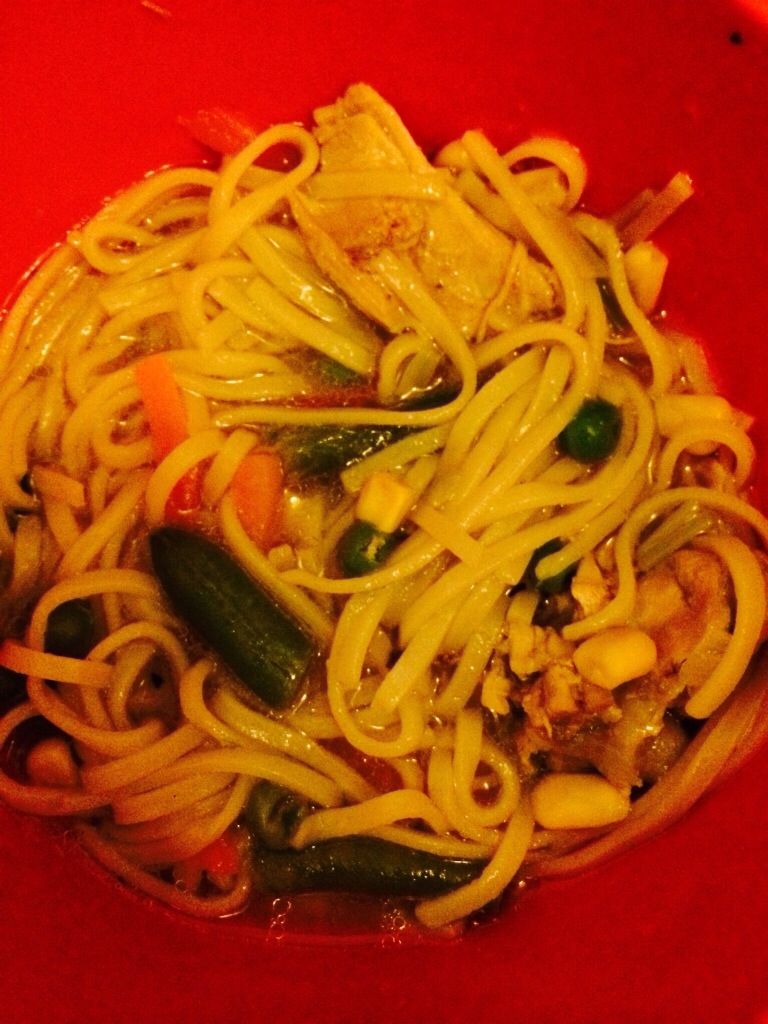 My Chicken soup recipe also forms the base of my noodle soup. Luckily, I had saved and frozen some of my home made chicken stock for future use. My stock is really very basic. I add ginger, garlic and salt along with the chicken and lots of water. Boil till the chicken falls off the bone. Chicken with bones are an important ingredient of a good chicken stock as all the nutrients and the flavour comes from it. Boiling boneless breast meat is going to give you a watery stock, which tastes of ghost chickens!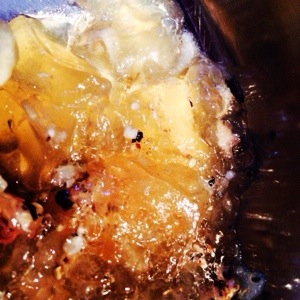 Chicken soup
Ingredients:
Shredded chicken
Freshly made, frozen or shop bought (they all taste good) chicken stock
Sliced fresh ginger
diced garlic cloves
Chopped spring onions
Lemon juice
Coriander leaves
Coarsely ground white pepper
You will notice, from my ingredients, that I prefer the oriental style chicken soup. The reason is quite simple, the Eastern Indian palate is heavily influenced by the Chinese, Tibetan and Nepali settlers and oriental style clear soups are much loved.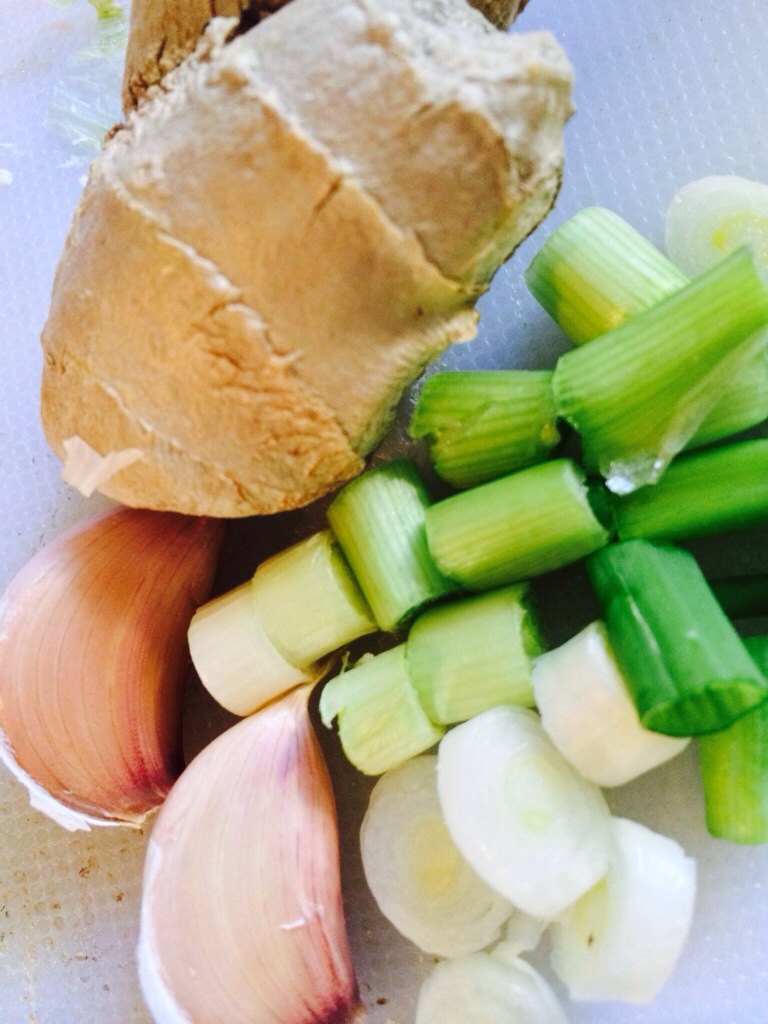 Flavouring a clear soup well is very important. Not only does it taste better but also adds essential nutrients. Both ginger and garlic have anti-inflammatory properties that clear sinuses and ease congestion. Ginger also helps digestion and boosts appetite. Moreover it eases aching joints and also tastes good. No wonder chicken soup is a miracle-cure-all for cold and flu! So, armed with all my vegetables in shining armour, I flavoured the stock. While the concentrated stock boiled with the remnants of my roast chicken and flavouring agents, I boiled some water. After adding the water and stirring it well, I add some more flavours in the form of chopped coriander leaves and lemon. Believe me when I tell you that it took me as long to make it as it took you to read my post.
For the noodle soup variation, throw some pre-cut frozen vegetables into the soup broth along with some egg noodles or rice noodles. the noodle starch will make it a little thicker.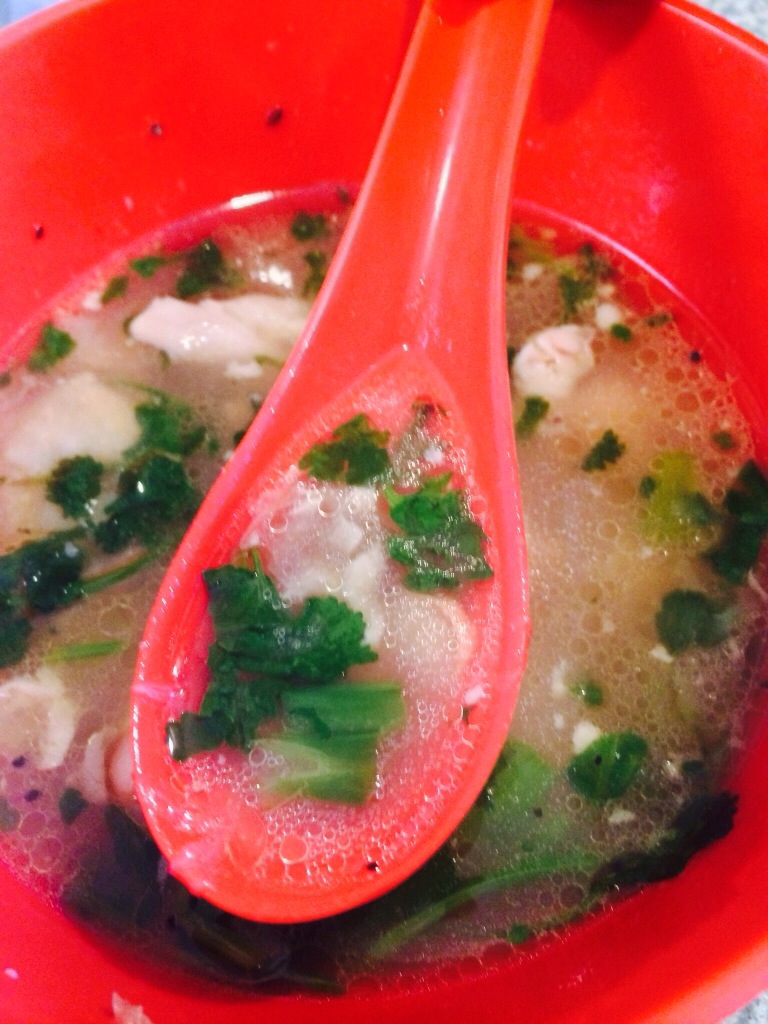 That evening, I felt much better and craved for something more spicy, something like curry. As all I had left was a carcass of a roast chicken, I set about clearing all the bits and pieces of chicken off its bones. Left with a handful of shredded chicken, I set about making a spicy Chicken Bharta, a spicy chicken mash, a popular fare in India's roadside dhabas. Roadside dhabas are found on all major roads of northern India and are usually run by Punjabis, who are renowned and famous for their cuisine all over the world. Most of what you eat as Indian food originated in Punjab, part of northern India and Pakistan.
Ingredients:
Shredded chicken
To add some more body to the dish, boiled egg yolk is often mashed in. I used finely chopped potatoes
100 ml greek yoghurt instead of cream (I didn't have any)
Puréed tomato
Ginger and Garlic paste
cumin and coriander powder
turmeric
garam masala (powdered cinnamon, cloves, cardamom and nutmeg)
one red onion chopped finely
salt and pepper to taste, you can also add red or green chillies
In two tablespoons of oil fry the onion and potatoes, when the onion loses its pinkness add the dry spices. Next, put the chicken in and blend well. Mashing it more while you cook will give you a better result. mix the wet ingredients into the yoghurt and add it to the chicken and keep stirring. Soon, the chicken will take on an orange-ish hue. If the potatoes have softened enough mash them in as well. I like my bharta dry. garnish with a sprinkling of garam masala.
My bout of cold and flu ended up as a culinary adventure. In Nigel Slater's terms, a chicken must be my 'unsung-hero'. Also,I'm glad it was the weekend!
Written by Amrita Dasgupta -
Visit my blog for more food and travel stories
I love to travel, discover new things, experience new cultures and then I get back home and experiment with the new food and recipes I discovered on my travels. My blog is about all those life experiences. If you've enjoyed this post, keep in touch with Drifting Traveller on
Twitter
and
Facebook
or by adding my blog to your RSS feed. Follow my blog with
Bloglovin
or
Networked Blogs
! If you really like reading the Drifting Traveller why not share it with people you know who'd like to read it too.