Crunch Time Cakes
These cupcakes are very easy to make and also, gluten and dairy free. I concocted this recipe, while rooting around my kitchen cupboard for something to bake with. All I had available was a bag of muesli, one large egg and 500 gms of gluten free flour. Delicious and crunchy, these cupcakes surprised me, when they turned out so well. I think the true genius is the mold and not the recipe!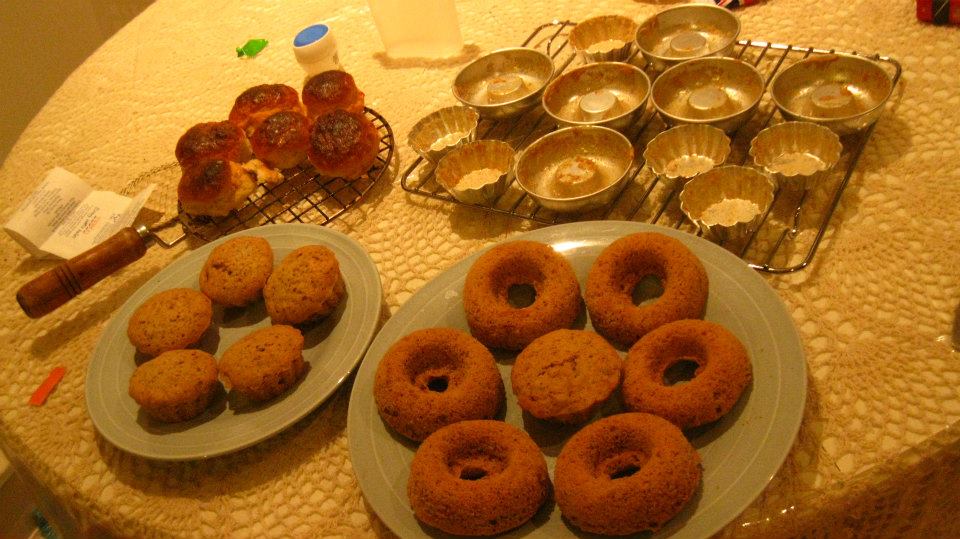 Ingredients:
150 gms muesli
1 large egg
150 gms gluten free flour
100 ml vegetable oil (you could use butter but then, it wouldn't remain dairy free)
50-100 gms sugar (depends on how sweet you like your cakes)
50 gms of chopped,  assorted dry fruits (if your muesli has an abundance of dried fruits you need not add more)
1 teaspoon baking powder
Preparation: 20 mins
Mix all ingredients in a mixing bowl in no specific order. Although, you might want to beat the eggs and the oil together first! Leave aside a little bit of oil to coat the cupcake cases. Pre-heat your oven and set it at 150 degrees. Fill the cupcake cases with your batter and place in your oven for 20 minutes. The number of cases needed depends on the size of your cases. I needed twelve and my batter had the consistency of a very sticky dough. These cupcakes will not rise much, but will turn into this beautiful golden colour. The secret here is in using gluten free flour.  Plain flour makes it a normal cupcake with crunchy bits inside. These cakes last for more than a week if you are a slow eater!
Serving suggestion: These are great for a quick snack at work instead of your usual cereal bars.
Written by Amrita Dasgupta -
Visit my blog for more food and travel stories
I love to travel, discover new things, experience new cultures and then I get back home and experiment with the new food and recipes I discovered on my travels. My blog is about all those life experiences. If you've enjoyed this post, keep in touch with Drifting Traveller on
Twitter
and
Facebook
or by adding my blog to your RSS feed. Follow my blog with
Bloglovin
or
Networked Blogs
! If you really like reading the Drifting Traveller why not share it with people you know who'd like to read it too.