Walking for Travel or Fitness?
I am an ambassador for walking. I have not been awarded a position if that's what you are thinking but, I encourage people to walk everywhere. Especially while you are travelling, or living in a city like London, where public transport fares are more than some people's daily living budget. If you are exploring a new city imagine how liberating it would be to walk into any interesting side road, which you would miss if you went on the bus or hired a car!
When we travel, we walk. it saves a chunk of our travel budget by not taking public transport and this helps save for the taxi fare to and from the airport. That is often a necessity and not a luxury. After all that walking I have often wondered, how far did I walk? How long have I walked? And secretly hoped that I burnt some calories.
So, to cut a long story short, I jumped at the chance to review a pedometer. I was sent one from Moderna Housewares, an Ozeri Digital Pedometer with 4X motion to review. '4X Motion' is the ultimate performance pedometer', I am told.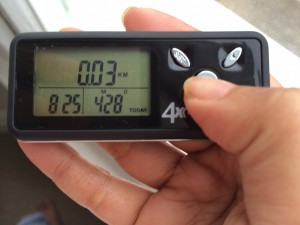 I must admit that every pedometer I own is a bit more advanced than the previous one. Yes, I had one before but, the battery ran out and I lost it before replacing the batteries.  This one, is very easy to use once you've read the detailed manual and followed everything diligently. All you have to do initially is calculate your stride length accurately and then program it into the pedometer. Other than the few times I had the pedometer in my bag or hanging from my neck, I've mostly had accurate results.
Although the pedometer comes with a long enough and sturdy cord to wear it around your neck, this is not the best way to use it. Although it is the most convenient method for walkers, it tends to swing and this gives inaccurate readings. The best thing to do is to put it in your trouser pocket, or some pocket in your clothing.
Why I would recommend it?
Because,
1. it is small and sturdy
2. it comes with a very detailed instruction manual (This is true of all the Ozeri gadgets I have used)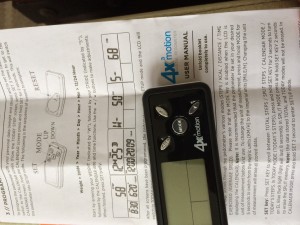 3. it just has four buttons
4. it comes with a mini screwdriver
5. and it comes with it own energy conservation mode. It switches off if it does not detect movement.
6. Also, it is has a back light for night time.
Watch this short video to see how the set up works. (Not detailed you can't do much in 24 seconds!)
Written by Amrita Dasgupta -
Visit my blog for more food and travel stories
I love to travel, discover new things, experience new cultures and then I get back home and experiment with the new food and recipes I discovered on my travels. My blog is about all those life experiences. If you've enjoyed this post, keep in touch with Drifting Traveller on
Twitter
and
Facebook
or by adding my blog to your RSS feed. Follow my blog with
Bloglovin
or
Networked Blogs
! If you really like reading the Drifting Traveller why not share it with people you know who'd like to read it too.