miamoo skincare Travel Set Review
If you are wondering why there is a travel kit review instead of a travel destination or a food related post, open your mind. Even travellers take a shower, moisturise etc. That is why we have those tiny press fit plastic bags at airports, to carry your liquids, essentially toiletries! So a suitably sized travel kit recommendation is important for my blog. Every year I go on an annual expedition to buy travel sized toiletries. This expedition happens usually in spring, right before we start going on our weekend, long weekend, longer holidays during the course of spring and summer. The biggest problem faced during this mission is not getting travel sized products but, getting products that you like using, suits your skin and something that you really need. Usually there is a lot of trials before I get something I would use.
Five things that are absolutely essential for me are:
1. Shampoo
2. Moisturiser
3. Sunscreen
4. Body wash
5. Lip balm
The biggest problem I have extremely sensitive skin and scalp so to avoid extreme dryness or oiliness I have to use products suited to sensitive skin types. However, many of the full sized products, that I use, do not have travel sizes (below 100 ml). So, when miamoo offered to let me review their travel sized toiletries kit, I jumped at it. I usually steer clear of any kind of beauty product reviews because of my skin but, this seemed like the perfect thing to review as a travel blogger and personally. miamoo's founder Saira Khan created this range of products for people with sensitive and irritated skin types.  Although miamoo probably intends this kit as something to be sampled before buying the full-sized product, I used it as my travel kit during the Easter break trip to Italy.  I must say I was quite pleased with it.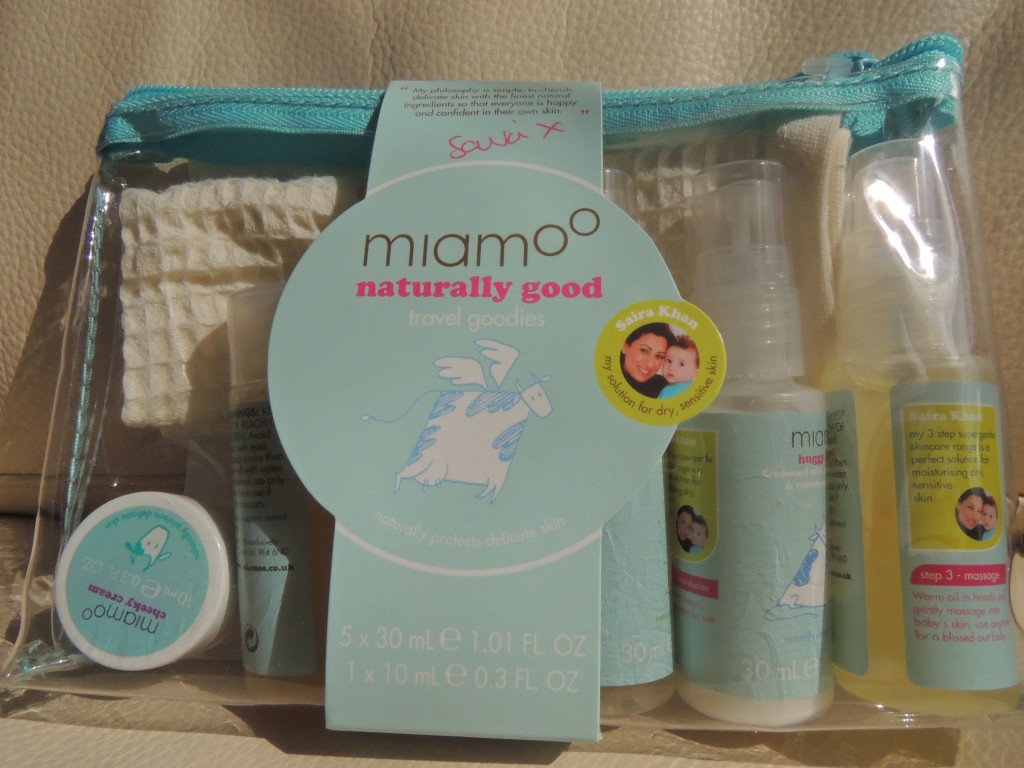 Contents of the kit:
1. splashy wash
2. fresh locks shampoo
3. huggy lotion
4. cheeky cream
5. baba oil
6. spritz and wipe
My experience: The shampoo was excellent for my scalp and I might just buy a full-sized product to try it out for a longer period of time. 30 ml is good to go for five washes if you have waist-length hair like mine. I used it every alternate day.
The splashy wash is gentle, doesn't dry out and has a pleasing smell. None of the products have an over-powering smell, this is a bit of an issue with me.  I cannot stand strong fragrances.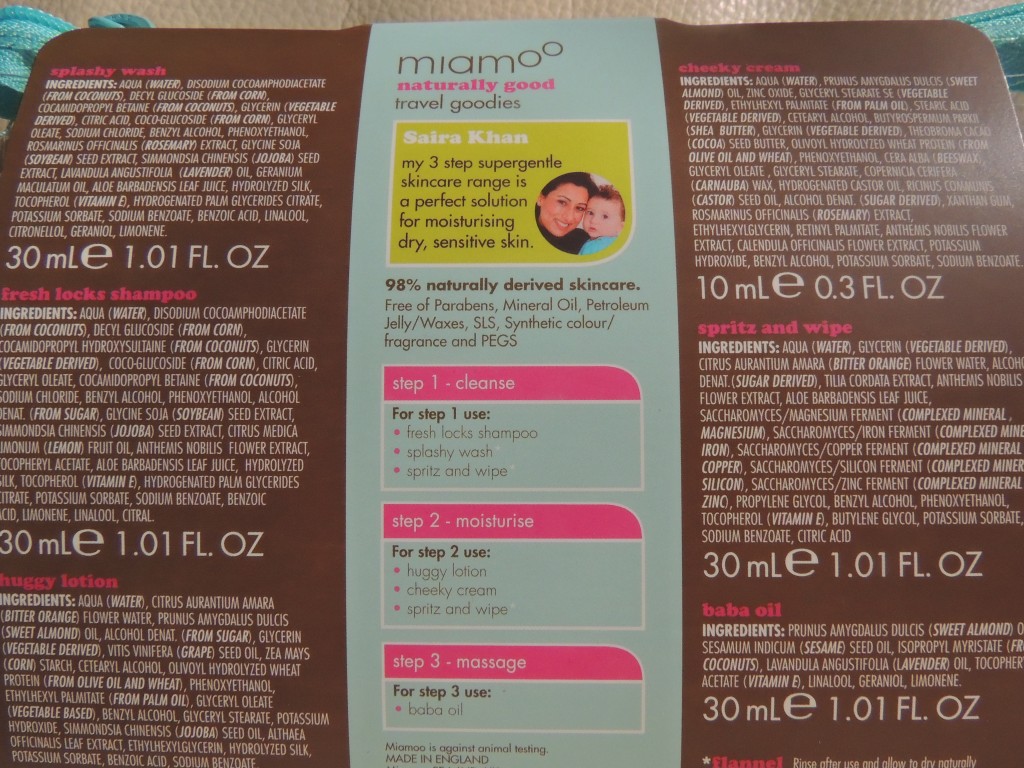 The huggy lotion and cheeky cream are great for for face, body and lips. Travel sized products with  multiple purposes always make me happy. This means I can carry fewer items in larger quantities. For example: 100 ml of huggy lotion or cheeky cream would suffice a whole trip.
I didn't use the baba oil too much, I might have if it was colder and drier. Or if I wasn't so taken with the lotion! Here's where, there should be an option. If people buy the travel kit for travel, then they should be given a sunscreen option instead of the baba oil if they need it. I would love to see a miamoo sunscreen.
Verdict
I will probably buy more of the shampoo and also another travel kit for another trip. I definitely recommend buying the travel kit. All products are suitable for ages 0 – 90.
By quoting blog13 you can receive 10% off at checkout when you buy any product from http://www.miamoo.co.uk .
Disclaimer: I was provided with the travel kit for review purposes and I was not required to review favourably. All opinions expressed about this product are my own.
Written by Amrita Dasgupta -
Visit my blog for more food and travel stories
I love to travel, discover new things, experience new cultures and then I get back home and experiment with the new food and recipes I discovered on my travels. My blog is about all those life experiences. If you've enjoyed this post, keep in touch with Drifting Traveller on
Twitter
and
Facebook
or by adding my blog to your RSS feed. Follow my blog with
Bloglovin
or
Networked Blogs
! If you really like reading the Drifting Traveller why not share it with people you know who'd like to read it too.