Italy, here I come: Naples and Amalfi Coast #atozchallenge
We have been planning this trip to Naples and the Amalfi Coast for a very long time now and as the day draws nearer I feel quite euphoric in anticipation. The only trouble seems to be that one of us doesn't have a visa yet. But, I am hoping that will be sorted soon and we will go off on our first holiday this year.

I keep talking about travel and the places I've been to on this blog, but I've rarely shared how we plan them. What are our tools of the trade (here trade being a traveller)? When to plan? How to go? And how do we decide where to go?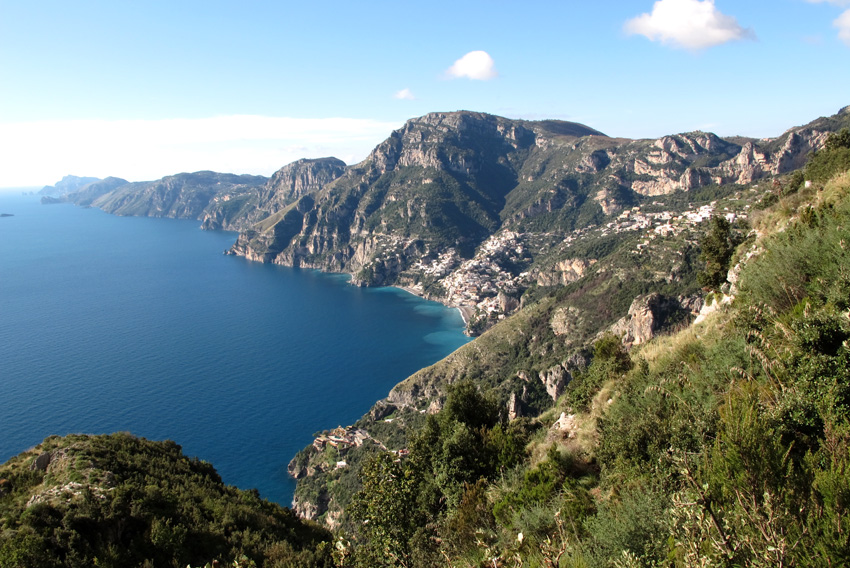 This time, I wanted to go to the Amalfi Coast and my husband wanted to see Naples. He has been told Naples is rather like Calcutta, his home town, decadent and shabby with loads of food and culture thrown in. Since my philosophy in life is, 'Have Food, Will Travel', no food? will travel too! I don't mind going anywhere as long as I am allowed to record my experiences through photographs, memories and my blog. We are still undecided on Pompeii, we might decide to stop by on our way to Amalfi on the Circum-vesuviana, a train service that connects Naples, Pompeii, and Sorrento on the Amalfi Coast.  The other destinations in the running were Barcelona and Girona. We are going to Barcelona later this year, but not for Easter holidays. Reasons being, flight prices and where we wanted to go most.
Tools of the Trade
The first thing we do when we've decided on a travel destination is to buy a travel guide. Our preferred travel guide being Lonely Planet. This time we bought Naples, Pompeii & the Amalfi Coast . The good thing about Lonely Planet books are, that you can buy them as paperbacks, e-books and particular chapters of a book or as a bundle. What I enjoy about these books are the maps, tips and trustworthy lists and recommendations of places to eat, sleep at and visit. Their website is also an extension of the book and often have information beyond the book. What  I found useful:
1. How to eat like a local on Italy's Amalfi Coast
2. Best Places to stay in Naples
4. A blogger, who has unknowingly helped me with my research on Amalfi is Traveling Italy with Lyn. Thanks Lyn. (If you receive a pingback from my blog, I am just a grateful blogger not a spammer. :))
I always have a list of food I would like to eat while travelling. Food is a crucial part of my existence and an intrinsic part of my travel experience.
Food to look out for:
1. Naples claims to have the best pizza in Italy. I love pizza and I am definitely going to put the pizza to test.
2. Spaghetti alle vongole (Spaghetti with clams).  Well, Naples is by the sea so  I can't come back without trying the seafood. So whether I'll have spaghetti with clams or not  I don't know, but some form of local seafood definitely. Lots of mozarella, wine and limoncello will be on my menu too.
3. The Amalfi Coast is famous for sea food. There are villages, which specialize in catching and preserving Anchovies. So, Anchovies, lobsters and calamari are on my list.
3. Zuppa inglese is a custard based Neapolitan dessert invented by the Neapolitan pastry chefs, who were inspired by English cuisine. The description sounds a bit like tiramisu, so if Zuppa inglese is still served in Naples my 'Z' problem for the A to Z Challenge is solved! I always had a devious nature.
Other things to do in Naples.
I won't list the typical things to do. I'd rather write about it after I've been on the trip.
Naples Underground . Naples has  2400 years of subterranean historical heritage. I am hoping it isn't a horror show stunt like the Edinburgh dungeons! At least all references to it look quite serious. I love tunnels and labyrinths!
Other than that, I'm going to walk the streets of Naples taking it all in.Walk around street markets. Find a beach on the Amalfi Coast. Enjoy the wonderful views from Positano on the Amalfi Coast.
If time  and transport permits some town hopping and beach hopping via Sita bus (the public transport of choice in the Amalfi Coast) would be nice. But, I am not too worked up about that. I'd rather lead a lazy, decadent and colourful Neapolitan life for three days in April.
Photo credits : Jensens who kindly put the panorama in public domain (Wikimedia commons)
Gilbert Bochenek Creative Commons License
Written by Amrita Dasgupta -
Visit my blog for more food and travel stories
I love to travel, discover new things, experience new cultures and then I get back home and experiment with the new food and recipes I discovered on my travels. My blog is about all those life experiences. If you've enjoyed this post, keep in touch with Drifting Traveller on
Twitter
and
Facebook
or by adding my blog to your RSS feed. Follow my blog with
Bloglovin
or
Networked Blogs
! If you really like reading the Drifting Traveller why not share it with people you know who'd like to read it too.