A Commendable Brew #AtoZChallenge
Good coffee that you haven't brewed yourself is sometimes difficult to find, especially if you are picky like me. I am even more picky about tea and I rarely drink tea when I am not at home with my favourite blends. So, I end up drinking coffee which I am also quite particular about because I drink it straight and black – Americano.
I am on a perennial search for good tea and coffee in London. Since last weekend I've made two significant discoveries in the world of tea and coffee. One of  which is an established institution of tea and other hot beverages in England. The other, is a newly launched coffee boat. I've seen gravy boats and heard about the gravy train but the coffee boat was a first. It is located right beside the Word on the Water, if you've been diligently reading my blog you'll know it is a book barge in London.
Can Do Coffee is a social enterprise that creates 'employment opportunities for the people who need it most.' Their latest pop up coffee shop is right outside Paddington station floating on Union Canal.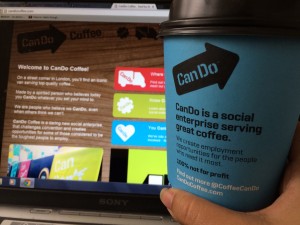 They serve Monmouth Coffee and the barista does not ask whether you want milk in your regular americano! That was a real surprise because everywhere in London I am invariably asked whether I want milk in my coffee or not. On telling the barista that he told me four out five people who order Americano ask for milk after being served black coffee! So after chatting with him a bit, I learnt that his coffee boat was five days old and had nothing to do with the London Coffee Festival next week. The coffee was good and I'll go back armed with their loyalty-stamp-collecting card for more coffee and brownies. The brownie was good to.
Now for tea. I've often walked past the Whittard of Chelsea on Regent Street but, last Saturday I walked right in. I was instantly drawn to their large jars of tea leaves and as is my habit I started looking for Darjeeling tea. Note: That is the only type of tea I drink and enjoy. Since they had a lot of different varieties and some of it was quite expensive I decided to play it safe. I bought Light Darjeeling tea as a box of 50 tea bags. On brewing it at home I realized that this tea isn't as light as I like it or as light as a Lopchu. I drink my tea black like my coffee so, I prefer more flavour and less colour. But by brewing it in a teapot I got two decent cups of tea. However, this was also the best Darjeeling tea I've found in London till date.  The other fascinating things about the shop was their various tea things from tongs to teapots they have it all. They also had coffee granules that smelt of irish cream without the alcohol in it! I'll definitely be going back to try some of the other tea blends, coffees and teapots.
This post is part of the #AtoZChallenge  'B' for Brew.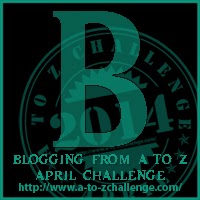 Written by Amrita Dasgupta -
Visit my blog for more food and travel stories
I love to travel, discover new things, experience new cultures and then I get back home and experiment with the new food and recipes I discovered on my travels. My blog is about all those life experiences. If you've enjoyed this post, keep in touch with Drifting Traveller on
Twitter
and
Facebook
or by adding my blog to your RSS feed. Follow my blog with
Bloglovin
or
Networked Blogs
! If you really like reading the Drifting Traveller why not share it with people you know who'd like to read it too.