Around Europe – An Adventure
My greatest adventures may have been in various parts of the world but making these adventures happen involve a lot of research, discussions, dreams, arguments, travel guide buying, further research and finally planning. Especially when your travel plans include multiple destinations in different countries. We chose Europe (Schengen area) because we need visas to travel so, one visa covered all countries. This is where the excitement begins the adrenaline rush of hope, expectations and seeing new places, or visiting well-loved haunts.
Spontaneous travel plans and sudden getaways might sound like a lot of fun but would you like to walk around in the cold or rain looking for a hotel which accepts walk-in guests? Of course money can buy everything but not all of us are that loaded. So, my first rule of travel is research and plan all that can be planned. It is easier on the pocket and gives you more time to be spontaneous when you are finally there. Travelling abroad also requires visas and these require advance planning as well. So how do you go about it?
I've lived in London for about three years now and I've gained more travel planning experience than blogging. Really! Initially we only lived in hostels or B&B's. Our honeymoon in Edinburgh was spent in a hostel room with a shared bathroom. Yes, we were that hard up. But  we were also busy exploring and having too much fun to worry about our accommodation.  However, then, the Malaga incident happened. We booked into a very cheap B&B right in central Malaga, the idea being we'll walk everywhere and save on transport. But that was our last B&B with shared bathroom experience, because we were bitten by bed bugs on both nights and we had to wash and sterilize all our belongings when we got back.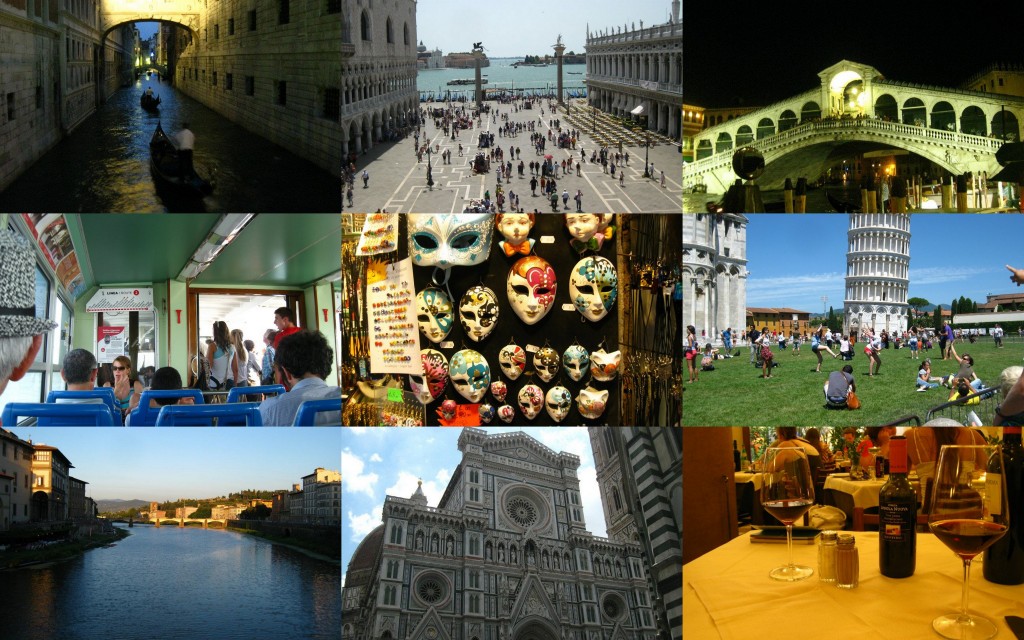 Our most efficiently planned and memorable trip was the one where we hopped from country to country in Europe. Our first stop was Venice, Italy. Venice is quaint, vibrant and charming but with temperatures soaring up to 35 C, summer isn't exactly the best time to go there. However, summer is high season in Venice and St Mark's square will be teeming with tourists. The canals are really water-logged ex-streets and after living in a tropical country with monsoons every year, smelly canals aren't really my favourite holiday treat. I was also quite unimpressed by the Gondoliers, who have nothing in mind but your money. They do not sing unless you pay premium prices, think one night's hotel costs, and they dupe you into thinking you had a long boat ride. However, I loved the numerous old churches and our hotel, Locanda Silva, with character and charm. Venice has a lot of hotels, B&B's and hostels to choose from but I would suggest picking a hotel near one of the major transport hubs because your only means of transport are the water bus or your own two feet.
My top picks for areas to stay in:
1. Around St Mark's square
2. Near Rialto bridge
3. Near the the Venice train station
Both St Mark's square and Rialto bridge have direct water bus connections to the airport and are also major attractions of Venice. Staying near the train station would make sense if you drive because cars can go up to the station or if you plan to travel around Italy by train.
We stayed in Venice for five days and made two day trips from there. Florence and Pisa are two hours by train from Venice. We went to Florence early in the morning and came back by the last train. Trains between Florence and Venice are quite frequent. If you've had enough of Renaissance art and architecture head over to the beach at Lido di Venezia.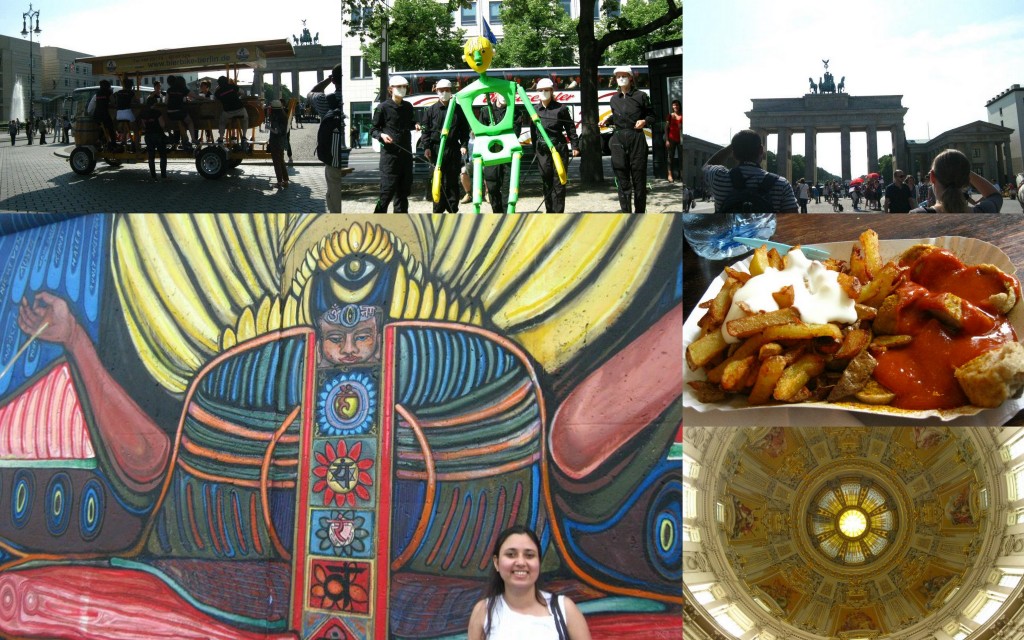 Our next stop was Berlin. Yes, I know our choices of cities were a bit random but my husband and I picked the top ten cities that we really wanted to visit and then planned our trip. So Venice was my choice and Berlin my husband's. But I am glad it was. Berlin was a sharp contrast to the laid-back decadence of Venice. Berlin was also edgier and more real. An underlying theme of similarity would be, both Berlin and Venice are museums come to life. Every street, every wall, every building has a story to tell in Berlin. Most of the stories are dark and full of despair, crushed hopes and fears but, they are also stories of a people who survived and breathed free. Venice, on the other hand, is a walk in to the former glory of Italy. Both these cities have to be absorbed and felt.
Things to see in Berlin:
1. Brandenburg Gate
2. East side Gallery – this is the former Berlin wall and you can even buy pieces off the wall from a souvenir shop right at the wall. However, I found that a bit unsettling.  Selling off the Berlin wall felt weird. Buying t-shirts with the east-side gallery painting prints was much nicer. If observed carefully, you will still notice subtle differences in East and West Berlin. People who live there might find glaring differences but  I didn't.
3. Berlin Cathedral and Kaiser Wilhelm Memorial Church
4. The corner coffee shop right beside Checkpoint Charlie
5. Don't forget to eat curry-wurst
6. Ride a beer bike
7. Watch a pop-up puppet show (eerily reminiscent of a bygone era)
You will never fall short of things to see in Berlin and usually they'll chance upon you unexpectedly.
Although it has been 20 + years after the Berlin wall fell, you still can't fly directly to Prague from Berlin. Don't ask me why, read your history. I don't think anyone can or will tell you why. Ideally Prague should have been our next destination because we wanted Amsterdam to be our last stop before we went back to London because Amsterdam is closest to London. But, because of this glitch in flights from Berlin we flew to Amsterdam instead. In a way it was educational because the theme of oppression  and justice continued.
Our first stop in Amsterdam was Anne Frank's house. After waiting for an hour outside we finally made it inside. Words cannot describe how moving it was. Initially it feels like any modern flat, quite small but cosy. The house was actually bigger than our flat in London. But, when you think about six people living there without venturing outside and the rooms become their world, the walls start closing in. The rooms have been intentionally left bare. But the walls tell the story of how the inhabitants lived. Posters and stamps on the wall tell us about Anne Frank's life as a teenager.
The other notable mentions in Amsterdam are Rembrandt's house, his servant's bed is in a cupboard in the wall and in those days they used to sleep sitting up so, the beds are quite small. All paintings and furniture in the house are copies because Rembrandt went bankrupt and had to sell all.
Van Gogh Museum and Rijks Museum. You can pick one or go to both. Depends on why you are visiting Amsterdam. When I went in 2012 part of the Rijks Museum was undergoing renovation and was closed to the public. I didn't see sense in paying full price for half a museum! I loved the Van Gogh museum, I always visit any place or museum dedicated to Van Gogh. Like Arles in south of France.
A must-have and cost effective way to see Amsterdam is to get an I Amsterdam city card. The card gives you free access to all participating museums, attractions, canal cruise, free public transport and lots of additional perks at various cafes, bars, restaurants and shops for 24, 48 and 72 hours. One of the days we had all our major meals and drinks courtesy of the I Amsterdam card. However, Anne Frank's house is not listed on I Amsterdam so, that is something you have to decide whether you want to visit or not. We even acquired a pair of shades each courtesy of Heineken but, sadly I've lost both of them.
Happy with Amsterdam we set off to Prague. By now our financial resources and enthusiasm was at an all time low. Our cost saving practice of walking-is-a-means-of-transport was starting to take its toll. But Prague enchanted us! Beer is cheaper than public toilets in Prague (sorry, I know  I am repeating myself but  I can't get over  the shock!). The Czech love their beer and goulashes and we tried different kinds. Prague is also the city that embraces art, the weirder the better and more prominent its location. Giant babies crawl up a hill, a life-like sculpture of a man hangs from the top of a building, a courtyard full of giant hanging guns are but a few. Ohh! did  I tell you about the headless Kafka riding a horse? We walked around the city with our trusty Lonely Planet map and city guide in hand following the art trail. Urinating and naked sculptures of men also seem to be a favourite here.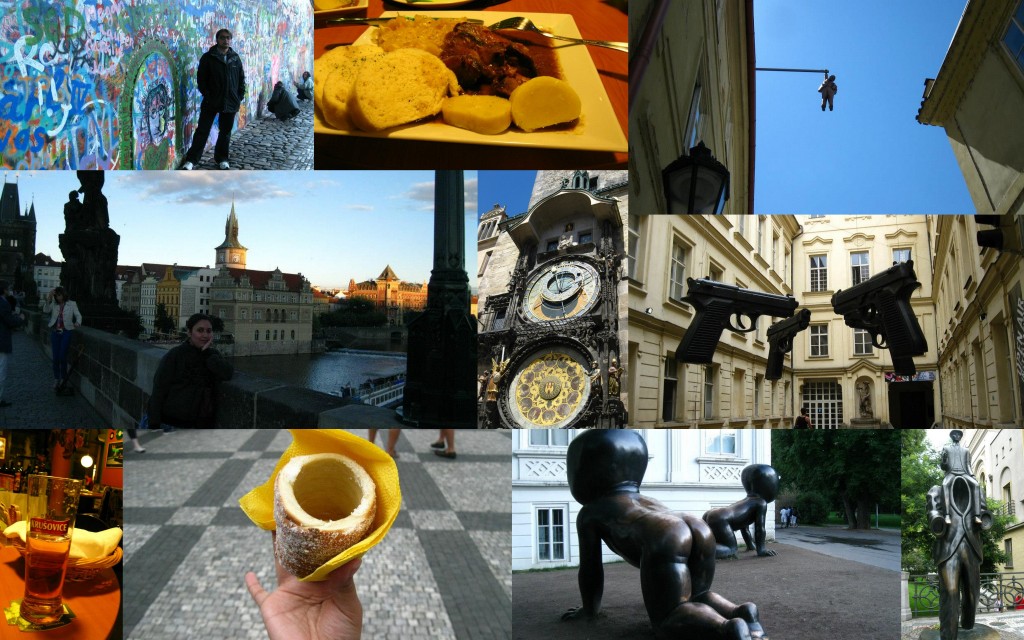 Food is quite cheap in Prague but, at the fag end of 15 days of travelling you are left with fewer clean clothes and even less money to spare. So, we often saved one of our two breakfasts served at the hotel. I might be tarred and feathered for mentioning it here but ordering a French breakfast has its advantages. Cold cuts of meat and bread rolls make wonderful sandwiches for a picnic.
Prague has direct flights to London at convenient times, a reason why we ended our trip there. This is one of our key rules of travel planning. The start and end of a trip should be at a city with direct flight or train connections to your home town. Lots of flight changes at the end of the trip make tired travellers crankier.
We picked hotels that had breakfast included in their prices. This means you can have one heavy meal a day and save money on the rest by  eating a light lunch  or a heavy tea to make up for your lunch and dinner.
Save time and money by choosing direct flights on low-cost airlines and book a long trip like ours at least six months in advance. If you are travelling with someone consider taking a hand bag only flight or, book one bag in with both of your belongings and carry handbags.
For a trip to be successful an fulfilling, unless you are on a luxury trip, cut costs where necessary not everywhere. Most European cities have a centre where most of the major attractions are, so practice walking. See all the free attractions, like we did in Florence and Pisa. We did not go to a single museum but I soaked up Florence the city. at the end of the day all we spent was on train tickets to Florence and Pisa from Venice and lunch.
What we learnt after planning this multi-country trip was, that the destination that requires most of your energy should be your first stop and the last destination should be a relaxing place, like a city with a beach, where you won't feel guilty about not seeing the most-talked-about attraction because you are sitting right in front of it.
Travel planning resources:
1. Lonely Planet guide books or any guide book that comes with a city map. Old school is cheaper than roaming charges.
2. Research your flights well. Don't go straight to the low cost airlines. You might be surprised by the British Airways flight fares sometimes and all their fares include baggage, and their hand bag only flights do not have weight limits. I flew British Airways to Malaga, Spain in December 2011 for 24 GBP per person!  Be aware of flights within a country. Domestic flights often have different baggage rules. Compare flight fares before booking.
3. Always buy refundable hotels and flight tickets if you need to apply for a visa.
4. Explore city pass options if you are staying for more than 24 hours. Rome, Amsterdam and Edinburgh are few of the best in terms of value for money.
A bit of common sense and lot of planning can ensure that you have a good trip.
This post is an entry for the Round the World Experts' Multi-stop Adventure Competition hosted by  The Bloggers' Lounge and Round the World Experts.
Also, 'A' for Around Europe – An Adventure #atozchallenge.
Written by Amrita Dasgupta -
Visit my blog for more food and travel stories
I love to travel, discover new things, experience new cultures and then I get back home and experiment with the new food and recipes I discovered on my travels. My blog is about all those life experiences. If you've enjoyed this post, keep in touch with Drifting Traveller on
Twitter
and
Facebook
or by adding my blog to your RSS feed. Follow my blog with
Bloglovin
or
Networked Blogs
! If you really like reading the Drifting Traveller why not share it with people you know who'd like to read it too.