Canvas Design UK and our Matterhorn moment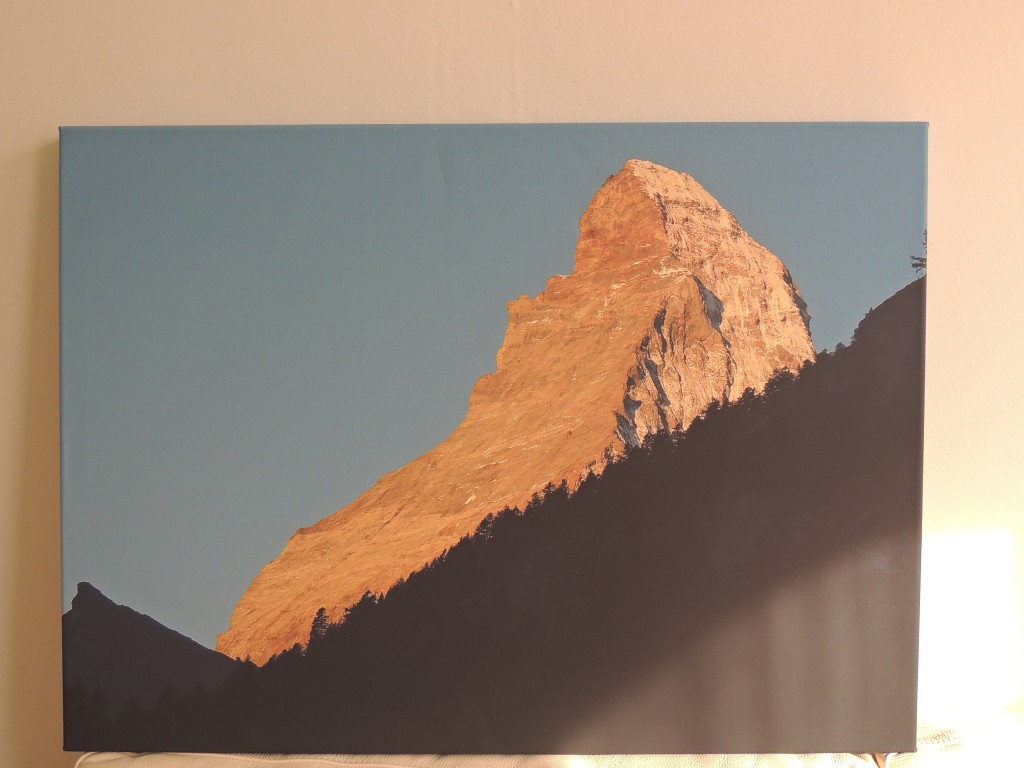 I take thousands of photos every year but I never print them. I think the last set of photos printed were of our big Indian wedding. So when Loren at Canvas Design UK was looking around for reviewers I was a bit apprehensive. Should  I take the giant leap from the virtual wall of photos and put them on a real wall? We don't have any photos of us on our walls, shelves, lockets etc. I realize it is the done thing but we prefer our print of the giggling Beatles, the odd Van Gogh print and so on.
After looking through my digital hoard I shortlisted 10! A further shortlist resulted in three. Unable to decide I asked Loren for advice. Loren quickly surmised what each Canvas would like if printed. So we decided on the Matterhorn. I wanted it look majestic and Loren suggested that a larger size would suit it better. We settled for 30″ x 20″ inches. You can order any size from 6″x 6″ to 40″x 40″online and even up to 72″ if you want to. The canvas came well packaged and with the paraphernalia required to hang it.
I am very pleased with my experience of Canvas Design UK. If you want your own canvas prints you can use the code BLOG15  to get a 15% discount off your order or enter the competition below to win a free canvas.
Please read the Terms and Conditions below before you enter. This competition is for UK residents 18 years and above only. If you win, the canvas of your choice will be sent to you by Canvas Design UK.
Visit my blog for more food and travel stories
I love to travel, discover new things, experience new cultures and then I get back home and experiment with the new food and recipes I discovered on my travels. My blog is about all those life experiences. If you've enjoyed this post, keep in touch with Drifting Traveller on
Twitter
and
Facebook
or by adding my blog to your RSS feed. Follow my blog with
Bloglovin
or
Networked Blogs
! If you really like reading the Drifting Traveller why not share it with people you know who'd like to read it too.