Lost Society : Afternoon Tea and Cocktails
One fine day in 2013 I decided to celebrate my Birthday in style. We went about making lists (we always make lists and research!) of friends we wanted to invite and venues, where we could all meet.  We ended up with seven friends and a baby, who were all ready to celebrate with me. We decided on Afternoon Tea with the baby and family and a night out to bring in the birthday with the rest.  As I mentioned before, we are obsessive about research, we short-listed a few clubs and pubs.  After a few nights of club and pub hopping, in the Clapham area, we ended up at the Lost Society. We loved it! To our delight, we found out, that they did Afternoon Tea on weekends as well.
Lost Society has a quirky and decadent atmosphere with something for everyone. The cocktail drinkers, the beer drinkers and the lovers of champagne will all find something to enjoy. I love their expresso martini and range of mojitos. They have a garden area for those balmy summer evenings and of course the smokers. A cool bar area, a dance floor on the first floor and luxurious seating areas all around. They also have a restaurant area on the ground floor but it looks a little dark and dreary. They have an extensive cocktail menu, which they change sometimes, I'm told. On the eve of my Birthday, which was a Friday, they had an elegant burlesque dancer and a DJ. Friday's are usually the nights for DJ's and Live acts. The music enticed even the most reluctant dancers to jive.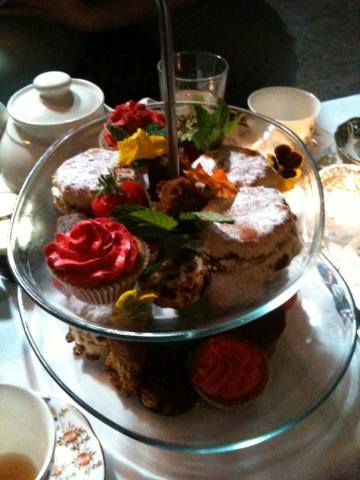 It was a different ambience at the Afternoon Tea Party. We walked into the same room, on the first floor, but it had been transformed into a room for posh tea parties. We chose the basic tea party menu with tea as our tipple of choice. However, we also had an option of cocktails or champagne. We were treated to a sandwich platter and a platter of cakes and scones. All in all it was a wonderfully relaxed yet decadent tea party.
Written by Amrita Dasgupta -
Visit my blog for more food and travel stories
I love to travel, discover new things, experience new cultures and then I get back home and experiment with the new food and recipes I discovered on my travels. My blog is about all those life experiences. If you've enjoyed this post, keep in touch with Drifting Traveller on
Twitter
and
Facebook
or by adding my blog to your RSS feed. Follow my blog with
Bloglovin
or
Networked Blogs
! If you really like reading the Drifting Traveller why not share it with people you know who'd like to read it too.