Glitz Glamour and Peace
On fine afternoon, when it was 15 degrees Celsius in London and 37  degrees Celsius in Bangkok, I arrived at the swanky Suvarnabhumi airport. Given that I've lived most of my life in Indian summer conditions, its quite wimpy of me, I know, to crib about the heat in Bangkok. But, conditioning to heat is one of those things that is quite difficult to get used to and very easy to forget. So, I spent the evening watching the night life of Sukhumvit ,cosily ensconced in the cool and air-conditioned hotel room, while I sipped iced-tea. Later I also had some delicious Tom Yum Goong but, that is a story for another day.
The problems with a tight schedule, when you are travelling, are that you only see the major tourist attractions, or you are so tired that you sleep in your hotel room with a view. However, we started bright and early next morning to see the city. Our first stop was in the middle of the road where our taxi driver, unceremoniously, deposited us because we decided to stick to our own itinerary and refused do what he says! Hot and bothered already, we started looking for another taxi. We were rewarded with Mr Manat, the taxi driver from heaven. Mr Manat was to become our chauffeur for the rest of our stay in Bangkok.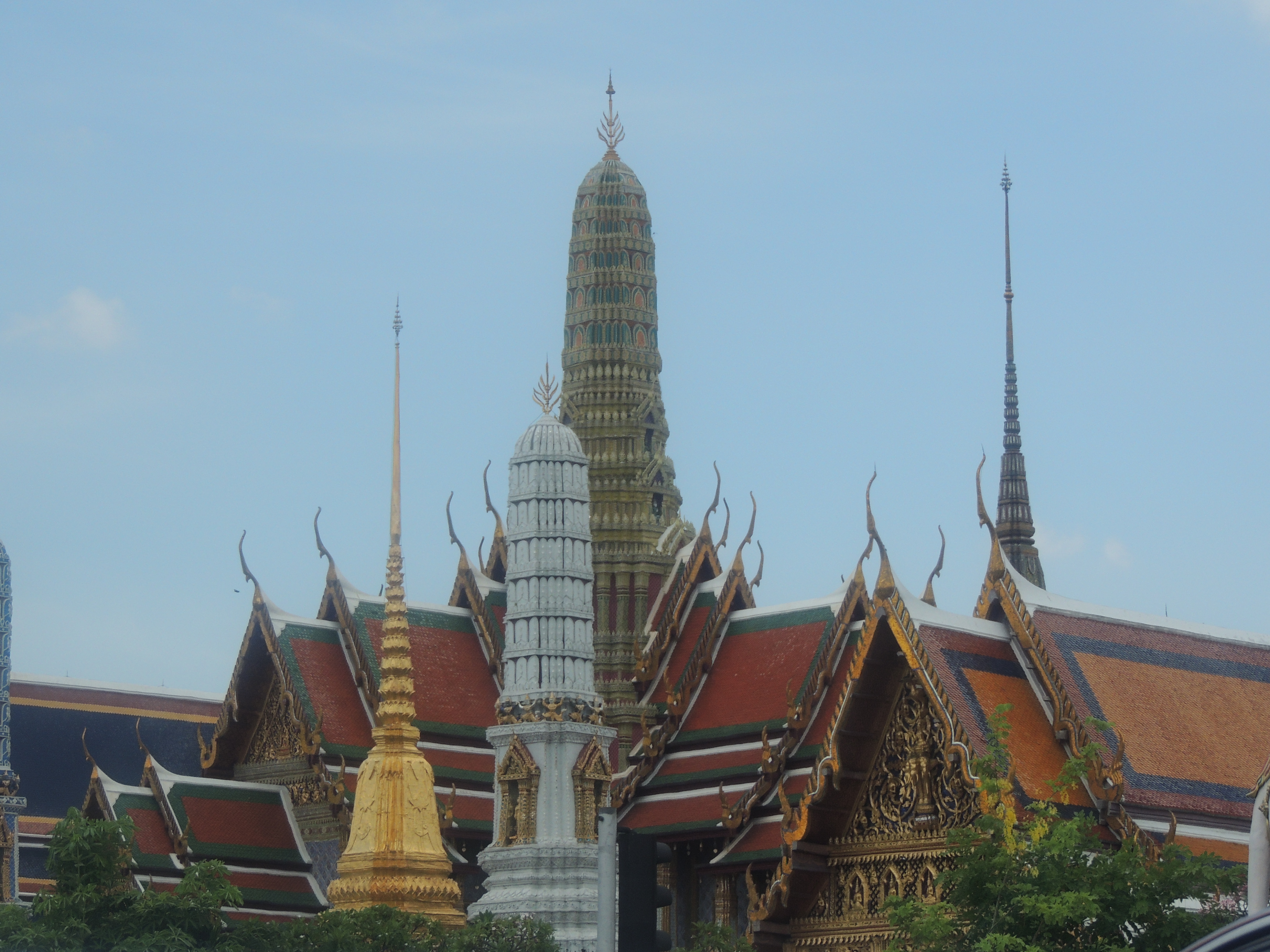 As we drove around the streets of Bangkok, I was amazed by the glittery temples and ornate decorations. My first thought was does glamour and peace go together? Buddhism is essentially a peace loving religion. Even a fanatic Buddhist would valiantly promote peace.
Our first stop: Wat Phra Kew
The Wat Phra Kew, as you can see above, dazzles you with its brilliance of colour, glamour and architectural magnificence. Located in the precinct of the Grand Palace, the Emerald Buddha travelled a long way historically as well as Geographically to reach its shrine today.
The Emerald Buddha is not actually carved out of emerald but brilliant green jade, which might also be nephrite. Legend has it that it originated in India, the birthplace of the Lord Buddha and Buddhism. It spent 300 long years in Patna then Ceylon, Cambodia and finally reached Chiang Rai in Thailand, where it was hidden by the ruler of the city and eventually was lost. While it travelled it became a symbol of promoting Buddhism in History.  Currently it is one of the most sacred statues in Thailand. Tourists and locals are not allowed to take pictures of the Buddha in the shrine. Law abiding, that I am I refrained form taking pictures. Later, I realized, that you can take a picture from outside the door with a high zoom lens. Two such pictures was available on wikimedia commons license and I've borrowed one of them to illustrate this post. We saw the Buddha in his summer attire and we were told that the other two robes are kept in the museum, which we could not find!
This was my first visit to a temple complex, with historical significance, outside of India. In India, foreigners are charged 500 INR, sometimes more,  to enter any temple or other monuments and institutions of significance, whereas Indians pay a paltry sum of 2 to 20 INR. In Bangkok it was the same. Although I live in a city where I'll always be a foreigner, I think my cultural background makes me feel a kinship with any institution, that is a temple, whoever the God, Goddess, prophet, or avatar might be. This was the first time I actually felt like a foreigner. Irrespective of the higher charges that I had to pay, the Buddha we know as Hindus is traditionally a part of our 330 million gods, goddesses and demigods. In Hinduism, the Buddha is the ninth avatar of Vishnu.
Despite the grandiose and the glittering gold plating all around I did feel a sense of peace and calm in every shrine. Serenity encompasses the Buddha and most people respect it. I say most because there are always some who lift up the camera to photograph inside temples and later, brag about how they defied 'no photography rules' and were not punished.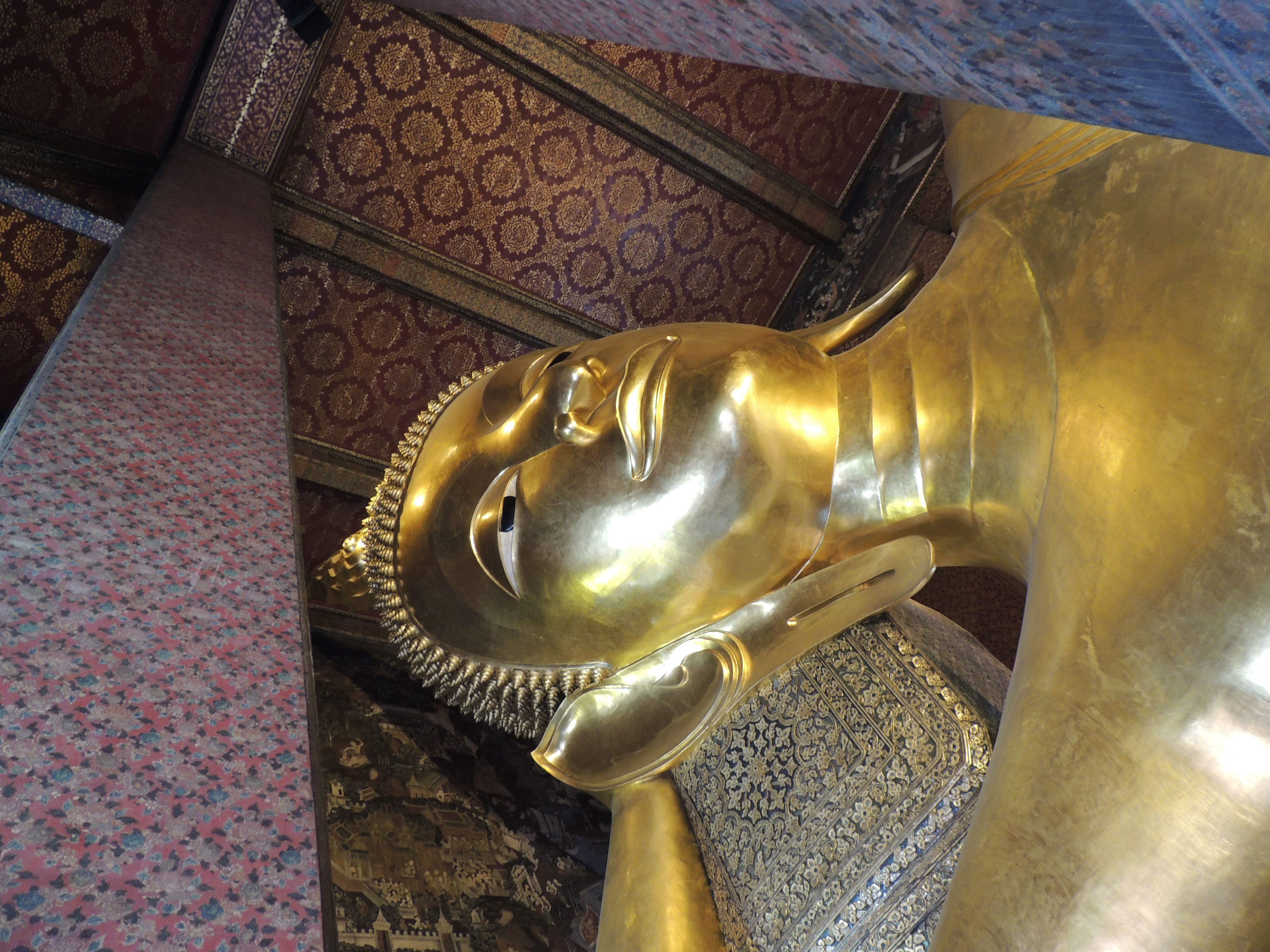 Our next stop: Wat Pho – The Temple of the Reclining Buddha
The reclining Buddha is one of the largest statues of Buddha I've ever seen. However, what fascinated me most were the soles of Buddha's mother-of-pearl inlaid feet depicting Buddha's life and his various avatars.
We strolled around Wat Pho's temple complex, which also had an open air market with food stalls and other curious objects from Thailand. I didn't dare to buy any but it was fun to watch other people experimenting with the exotic wares.
Our weekend ended with a visit to Chatuchak market and a meal of blue dumplings at Cabbages and Condoms. The restaurant promotes acceptance of family planning and serves authentic Thai cuisine and condoms to its customers. Their tagline suggests that their food is guaranteed not to cause pregnancy! Fingers crossed, you must visit!
Written by Amrita Dasgupta -
Visit my blog for more food and travel stories
I love to travel, discover new things, experience new cultures and then I get back home and experiment with the new food and recipes I discovered on my travels. My blog is about all those life experiences. If you've enjoyed this post, keep in touch with Drifting Traveller on
Twitter
and
Facebook
or by adding my blog to your RSS feed. Follow my blog with
Bloglovin
or
Networked Blogs
! If you really like reading the Drifting Traveller why not share it with people you know who'd like to read it too.