Spinach and Potato Fritters
The spinach and potato fries are a Bengali delicacy that is much loved. Every family has their own method of preparing it, but they all eat it with rice. In Bengali cuisine,  food is always consumed in a specific order. We start of with something bitter, like bitter gourd,  aubergine fritters with neem leaves(the bitter), or a leafy vegetable like spinach and potato fries. Next, comes another vegetable preparation or dal (lentils) followed by fish or meat. We end the meal with something sour like mango chutney or curd, and something sweet (dessert).
However, here, I'll concentrate on the spinach and potato fritters.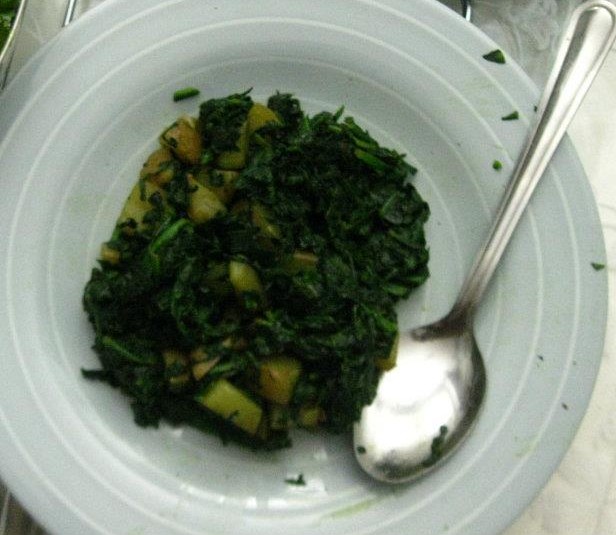 Ingredients:
500 gms of spinach washed and dried
1 teaspoon of Kalanji (also known as nigella seeds or onion seeds)
1 dried red chilli
2 table spoons of oil with a high smoking point
4 medium sized potatoes
Salt to taste
1 green chilli (de-seeded and finely chopped)
Preparation and cooking time 30 mins
Wash spinach carefully and chop finely (julienne) . Peel potatoes and chop them into tiny into cubes. Heat the oil in a wok and add the potatoes when heated. When the potatoes are lightly fried add a dried red chilli and a pinch of nigella seeds. If you are not to fond of the heat from red chillies, take special care not to break it. Add the julienne spinach soon after that and keep stirring to avoid it sticking to the wok. Add a pinch of salt (as spinach reduces in mass when it cooks, don't add to much salt). You can also add a pinch of turmeric to enhance the brightness of the greens. Soon, the spinach will let out a lot of bright green fluid. Keep stirring madly till the amount of spinach reduces and the fluid has dried up. Turn off the heat and rest your arms. After all that chopping and stirring, you will end up with 1/6th of the amount of spinach you started with. However, one fragrant mouthful of it will make it worth the effort.
Serving suggestions: Best eaten with steamed rice and lentils (dal).
Written by Amrita Dasgupta -
Visit my blog for more food and travel stories
I love to travel, discover new things, experience new cultures and then I get back home and experiment with the new food and recipes I discovered on my travels. My blog is about all those life experiences. If you've enjoyed this post, keep in touch with Drifting Traveller on
Twitter
and
Facebook
or by adding my blog to your RSS feed. Follow my blog with
Bloglovin
or
Networked Blogs
! If you really like reading the Drifting Traveller why not share it with people you know who'd like to read it too.