The Bengali Fish Curry
This is a traditional recipe for cooking Carp (a species of fish) in West Bengal, India. In the UK, Carp fishing is for  sports only. So, I usually make my Bengali fish curry with Trout or River Cobbler. Although, I think trout is a better replacement for Carp.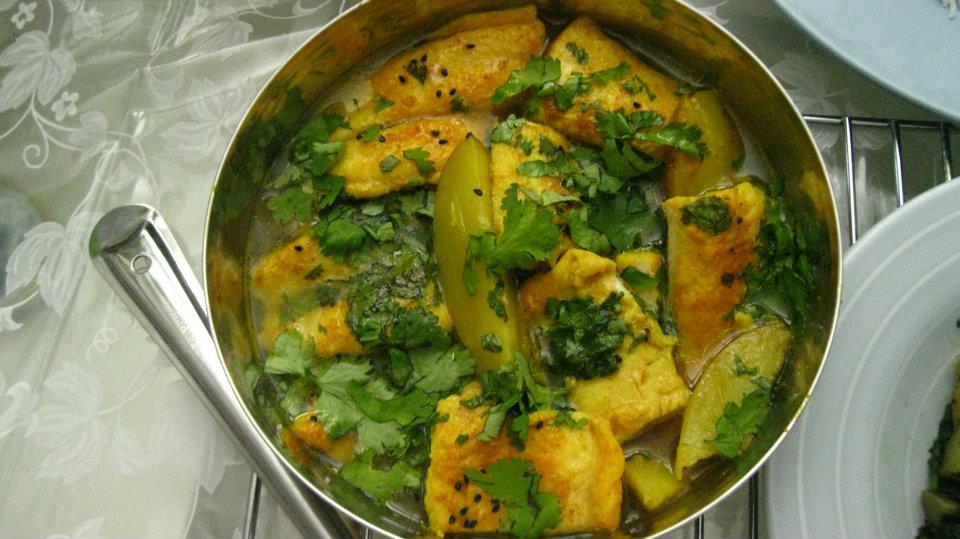 Ingredients:
400 gms of the fish of your choice
2 potatoes sliced like chips (or look at the potato in the picture)
A teaspoon of Nigella seeds or Kalanji, as it is called in India
2 teaspoons of turmeric
A teaspoon of ginger paste
As much coriander as you please ( there is no such thing as too much coriander)
A teaspoon of oil
Salt to taste
200 ml of freshly boiled lukewarm water
Preparation: 30 minutes
Lightly coat the pieces of fish in salt and turmeric, and then fry them in oil till they lose their pinkness.  If its a river cobbler, its going to lose its translucency. Drain the oil, take the fish out of the pan or wok, and put the potatoes in. Fry the potatoes over a low flame until lightly brown. Add the nigella seeds and sauté lightly, take care not to burn it.  In a small cup or bowl mix the rest of the turmeric, ginger paste, and salt in lukewarm water and add to the mix potatoes and nigella seeds.  Cover the pan and let it simmer till the potatoes cook.  The potatoes should be firm to touch and not mushy. Add the lightly fried fish to the pan and simmer for 5 minutes. Sprinkle generously with chopped coriander on top.  Keep the pan covered till you serve. The waft of warm coriander, when you lift the lid, is a wonderful appetiser.
Serving suggestions:
Eat with plain steamed Basmati rice. Lentils and aubergine fritters would complete your Bengali meal.
Written by Amrita Dasgupta -
Visit my blog for more food and travel stories
I love to travel, discover new things, experience new cultures and then I get back home and experiment with the new food and recipes I discovered on my travels. My blog is about all those life experiences. If you've enjoyed this post, keep in touch with Drifting Traveller on
Twitter
and
Facebook
or by adding my blog to your RSS feed. Follow my blog with
Bloglovin
or
Networked Blogs
! If you really like reading the Drifting Traveller why not share it with people you know who'd like to read it too.